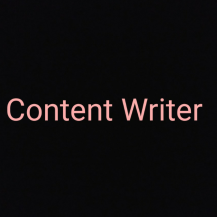 Lucknow, India
Sep 17, 2022
Member since
Content Writer, Proofreader and Editor
About
Hi. Here's what I can help you with:-
1. Content Writing - Provide me with the gross matter, such as what to write and what not, and kick back and relax. Your project will is in the right hands.
2. Proofreading/Error Checking - Too tired to go through all of what you have just written to find measly errors? Worry not for you have come to the write place. Provide me with the material and let me do the error checking for you (typescript will be preferred over manuscript).
3. Reviewing - Want a first and honest (detailed or compressed) opinion of your work, but want to keep it as a surprise to your dear ones? Allow me to critique your work and find whether it's good or does it need more work. I won't be too fault-finding, don't worry!
Skills
Academic Writing & Research
Article & Blog Writing
Copywriting
Creative Writing
Editing & Proofreading
Technical Writing
Web Content
Data Entry
Bookkeeper
Content Writer
Copywriter
Social Media Manager
Technical Writer
Writer
Work Experience

No Work Experience Available
Portfolio

No Portfolio Available
Education
BCA | University of Lucknow
2021 - 2024
Certificate

No Certificate Available
Availability
As needed - open to offers