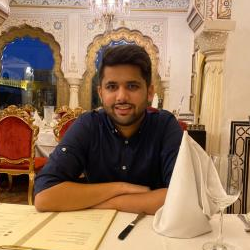 Jaipur, India
Oct 12, 2021
Member since
About
I am currently a Senior Key account manager at Pine Labs, a 22 year old Fintech in India. My primary task has been to plan and execute the launch of Fave - India's first brand cashback program in Jaipur. I onboard merchants from pharmacy, grocery, F&b, fashion retail and salons. I also work on account management and work on driving more and more transactions on Fave.
Prior to Pine Labs, I worked with Zomato for 18 months as an Account Manager. During my stint at Zomato I launched Udaipur market on Zomato advertisements, Zomato Gold, Zomato Pro and Zomato contactless dining. I was awarded the Alpha sales performer for delivering consistent growth in Udaipur. In my last 4 months at Zomato, I managed key accounts in Jaipur and delivered the highest GMV & transactions on Zomato pro.
During my undergrad, I completed two business development internships from Noida & Indore. I also completed my minor in management. After serving as the marketing volunteer in 2015 & 2016, I was elected as the Marketing and sponsorship head for Breeze in 2018 & the Overall coordinator for Breeze in 2019. I also served as the Secretary of External Affairs at the Shiv Nadar University Student Council from 2018-2019.
My key talents include business development, new market entry strategy, management consulting & account management. My hobbies are reading non-fiction books, running in the morning & watching sports.
Skills
Email & Marketing Automation
SMM - Social Media Marketing
Telemarketing & Telesales
Market & Customer Research
Marketing Strategy
Lead Generation
Resumes & Cover Letters
Management Consulting
Customer Service Representative
Resume Writer
Sales Consultant
Social Media Manager
Work Experience
Pine Labs |Senior Key Account Manager
2020 - Present
---
Zomato Limited |Account Manager
2019 - 2020
Portfolio

No Portfolio Available
Education

No Education Details Available
Certificate

No Certificate Available
Availability
As needed - open to offers