Hire the best
freelance web developers
Get connected to the right professionals to get work done quickly and in the most desired manner possible. Hire experts on a project basis or at hourly rates.
Get Started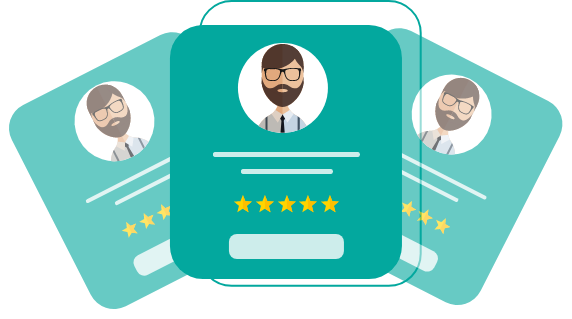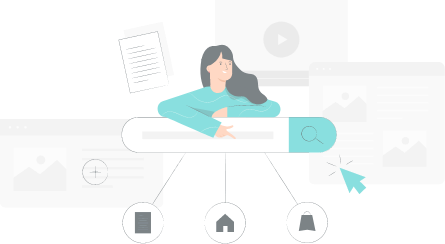 Sorry, no freelancers have registered for yet.
We are constantly updating our database onboarding new freelancers. We'd be glad to inform you once we have someone here to help. Don't mind registering with us. Click here to register. You might want to search for similar topics.
How it work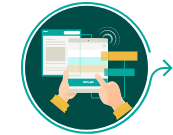 Post a job
UX/ UI experience and marketing savvy- all of these include in the portfolio of a top-notch mobile app developer in order to bring it all to life.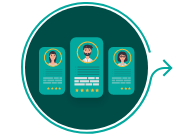 Freelancer come to you
UX/ UI experience and marketing savvy- all of these include in the portfolio of a top-notch mobile app developer in order to bring it all to life.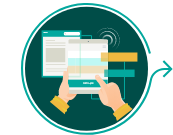 Collaborate easily
UX/ UI experience and marketing savvy- all of these include in the portfolio of a top-notch mobile app developer in order to bring it all to life.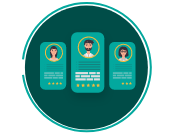 Payment simplified
UX/ UI experience and marketing savvy- all of these include in the portfolio of a top-notch mobile app developer in order to bring it all to life.
How to hire freelance Web Developers
How to Hire Top Web Developers?
Building a website requires a skilled web developer. Surely a company or organization will look for an experienced and professional candidate for the job. Hiring a web developer may require you to justify your needs and what you wish your website to be. There are some tips that can be helpful in hiring a suitable candidate for hiring a freelance web developer: -
How to Shortlist Web Developer?
As you're looking for freelance web developers, so it is required to shortlist candidates by screening their profiles, it will help you at the time of interview. Below is mention some factors that must consider while shorting a web developer-
1. Understanding your needs –
Knowing what you wish for your website to look and work can make you choose what type of freelancer can get the job done, that too in reasonable price. You can either different candidates for designing and coding, or you can look for the one who can do both.
2. Work of the developer –
The web developer should be very clear about what work he's going to lay his hands on. He should be briefed about your vision. You can ask for his opinion or suggestions, but it's your concrete idea that he has to work on.
3. Technical Skills –
A web developer with advanced skills is always the top priority of the organization. You must check on his skills and his way of dealing with the problems. The candidate should be an expert in HTML, CSS, jQuery, JavaScript, WordPress, Debugging etc.
4. Reasonable Cost –
You should have a basic knowledge about the cost of hiring a web developer, whether he's a fresher or experienced candidate. Knowing this can be helpful in making a cost-effective budget for your project.
What are the Skills Require to Become a Web Developer?
If you're planning to hire a freelance web developer, be ensure that the person has certain specific skills and knowledge of these tools to build a robust website, such as –
Basic development tools –

The most common web development skill is that the person should understand basic development tools. These are the primary platforms which helps you to craft a website. For example- GIT (code versioning), Basic graphic designing, Working with Hosting and Back-end and databases etc.

HTML & CSS-

Knowledge of HTML and CSS is one of the finest web development skills. Both are the fundamentals on which structure and style of a website is created. It makes you able to read and edit a page when you want.

JavaScript –

JS is a high level computer language. It enables developers to create an interactive website as JS can read or write data, change styling, manipulate factors and so on. Other high-level languages used in web development are – PHP or Python.

Debugging –

Debugging is a process that lets you find bugs or errors and any abnormalities in code, thus to fix it. Although, this is complicated process but it is required for a web developer to have the skill. With the time, debugging becomes fun, as it is like resolving bugs and makes corrections that can make work everything.
What are the Role and Responsibilities of a Web Developer?
Here's mentioned certain responsibilities of a Web developer-
Have strong understanding of UI, general web functions and standards and cross-browser computability.
Writing well-designed, testable and robust code by adopting effective software practices.
Creating website layout and UI with the help of CSS or HTML practices.
Integrate data from numerous databases and back-end services
Develop and maintain software documentation
Cooperate with web-designers to match with visual design intent.
Gather and refine specifications and requirements on basis of technical tools
Stay plugged into developing technologies, latest industry trends and apply them into business practices and operations
Responsible for managing, expanding and ascending the website.
Write An Effective Job Description to Hire a Freelance Web Developer?
The process starts with identifying the necessary skills that meets your project requirements. A web developer can handle numerous projects, such as –
Acquaintance with atleast one programming languages, such as – PHP, JavaScript, Ruby on Rails, ASP.Net etc.
Strong understanding of process of web application likewise – session management, security and best development practices.
Proper knowledge of relational database system, web application development and Object oriented programming
Aggressive assessment of problems and unique problem solving skills
Basic understanding of SEO process
Hands on experience in network analytics tools and network diagnosis.
Hence, by finding your requirements you can get a clear picture of ideal web developer. Along with this, it is also required to mention necessary skills and experience the person should have. Here's is given requirements of a web developer-
Proven work experience
Solid experience in creating wireframes, storyboards, user flows, process flows and site maps
Proficiency in GIT versioning, Debugging and other web development tools.
Acknowledge with HTML, CSS and JavaScript to fast prototyping
Experience working in an Agile/Scrum development process
Excellent visual development skills with sensitivity to user-system interaction
Ability to solve problems creatively and effectively
Be aware with the new and latest Web trends, techniques and technologies
While creating a job description, don't forget to mention roles and responsibilities of a web developer as it will tell the candidates what they will have to do. Apart from this, you should also define the scope of work which includes all deliverables you need, project length to define whether it is a smaller or larger project, background experience and set a budget by mentioning hourly rates and fixed price contracts.
Web Development FAQs
What is Web Development?
Web Development entails to building, creating and handling a website. Basically, it involves web designing, web programming, web publishing and database management. A web developer writes web scripts in languages like – ASP and PHP. They assist to maintain and update a database acquired by dynamic website. The process of web development includes creation of numerous web content, using content management systems and tools in order to create an effective web-based interface of the website.
Why to Hire Web Developers?
Your search of Web Developer will end at Fixnhour. We're having a wide range of skilled and experienced web developers who delivers high-quality websites. They are responsible to include various features required by a website, i.e. database management, back-end services and code. Web developers can create a site which is dynamic and attractive at the same time and runs smoothly on all platforms. Along with this, if you're hiring a freelance web developer for a specific web project, they will assist you in building an effective online strategy plan. In other words, your developers enable to keep your business model and organizational goal in mind while creating the site. It implements a solid base for the site to thrive for long term.
Web Designing V/S Web Development
Web designer and web developer both are responsible for responsible for web page function. Both have a crucial role in crafting a website. But, there's always a debate about the difference between web designer and web developer. Can someone do both jobs?
The most common difference between both of the jobs is - the web designer is liable for visual or aesthetic jobs whereas the web developer is responsible for invisible design of coding side. Apart from this, web designers have great sense of aesthetics and ability to make your web page attractive. They use – Photoshop, Dreamweaver, Frontpage, Coreldraw and other tools to improve users' insight towards the website. Many designers are familiar with HTML. JavaScript and CSS that assists them to create living mock-ups of web pages and fine tune of UX/UI of apps. It has been overviewed that an experienced web designer often works with template services, i.e. Wordpress and Joomla that allow to use themes and widgets whie creating websites without writing single line code.
On the other hand, Web development controls all the code that makes a website tick. It is classified into two parts, such as- front-end and back-end. Among which the front-end side is client side which is responsible for identifying how the website will show the designs mocked up by designer. Whereas, Backend is a server side application that manages data within database and providing it to front-end to display. Following are the skills which a web developer must know- HTML, CSS, JavaScript, CSS preprocessors (Less or Sass), Frameworks (Angular, Ember and React JS), Libraries (jQuery), Git and Git Hub.
Hiring Freelancers is absolutely Free!
We've got you covered for all business needs
Hire Freelancers